The aviation industry has suffered greatly during 2020 with airlines canceling flights en masse due to the pandemic. One would assume that a company which leases aviation equipment would be in dire straits financially.
However, even though its earnings have been impacted by the pandemic, Fortress Transportation (FTAI) still has generated more than enough Funds Available for Distribution, FAD, to amply support all three of its distributions in 2020.
FTAI's two preferreds have had a very low FAD Payout Ratio of 7.23%, or, conversely a very strong coverage factor of 13.84X in Q1-3 2020: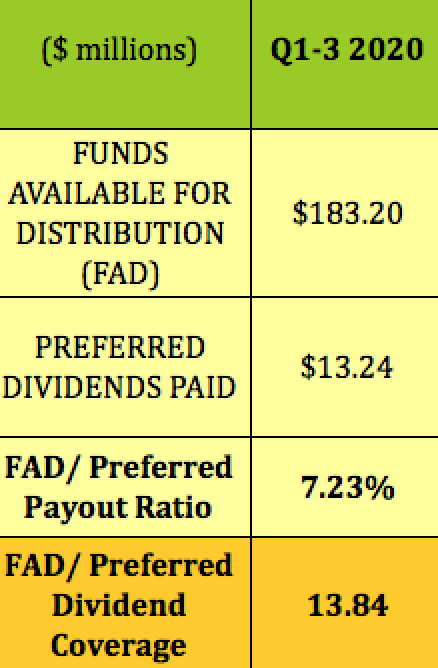 Likewise, its common distributions had a reasonable payout ratio of 46.49%, or coverage factor of 2.15X, which weren't as strong as Q1-3 '19's figures, but still provided ample coverage: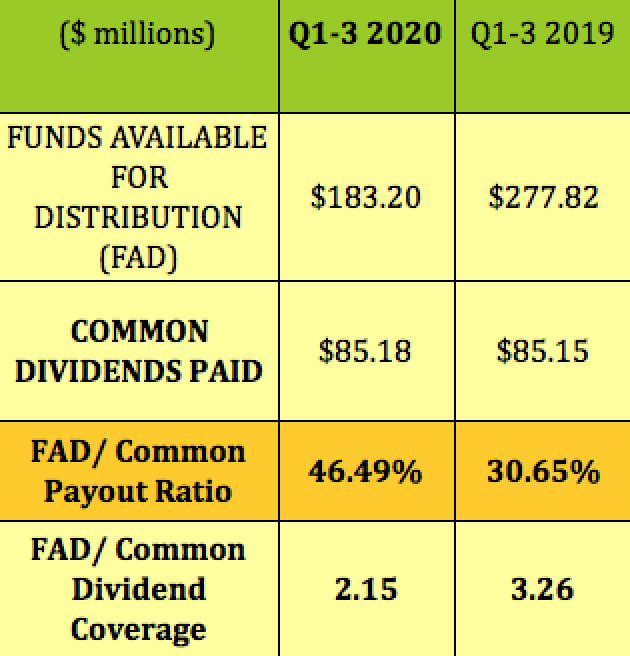 Taxes:
FTAI issues a K-1 for its distributions.
Preferred Distributions:
FTAI has two cumulative preferred series, its A shares and a B series, which it issued in 2019.
The 8.25% Fixed/Float Series A shares (FTAI.PA) and the 8.0% Fixed/Float Series B shares both have a future floating rate, which kicks in on their call dates, in Q3 and Q4 2024.
We put this table together to highlight their current yields vs. these future floating rates, which are based upon three-month LIBOR rates. The three-month LIBOR rate is currently very low, at .21%.
The A shares have a future floating rate of 688.6 basis points above 3M LIBOR, while the B shares have a lower floater of 644.7 basis points. The A shares currently yield 10.14%, and the B shares yield 9.87%, both very attractive yields.
If 3M LIBOR rates at still at the current depressed rate of .21% when these call dates occur in 2024, FTAI-A would yield 8.72%, vs. its current 10.14% yield, and FTAI-B would yield 8.21%, vs. its current yield of 9.87%: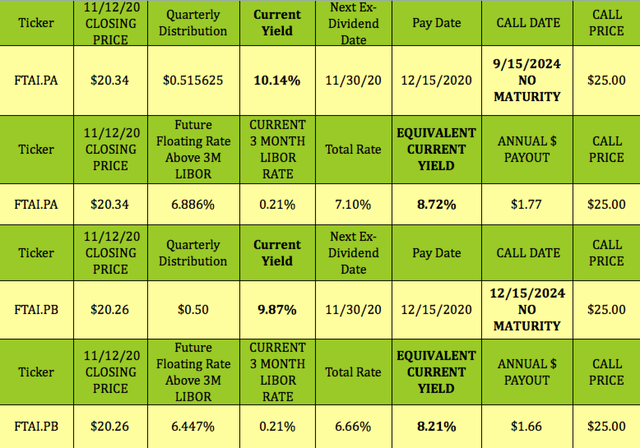 The Q3-Q4 2024 3M LIBOR rate would have to be ~1.35% for FTAI-A to have a ~match its current 10.14% yield, while the 3M LIBOR rate would have to be 1.55% for FTAI-B to continue to yield 9.87%.
While four years may seem like a long way off, there are futures markets which project that far out, as do bond markets. This tidbit was published this week:
"The eurodollar futures market, which tracks short-term U.S. interest rate expectations over the next few years, is betting on a U.S. rate hike by September 2023, moving up by half a year its estimated start of the next tightening cycle." (Nasdaq.com)
It just might be that rates could move back higher by the time these Q3-4 2024 floating rates kick in.

Common Distributions:
At $17.39, FTAI's common units yield 7.59%. They won't go ex-dividend again until March 2021, but there are some attractive option trades you can use as a substitute for the quarterly payout.

Analyst's Price Targets:
At $17.39, FTAI is 8.5% below analysts' lowest price target of $19.00 and 21.6% below the average $22.18 price target.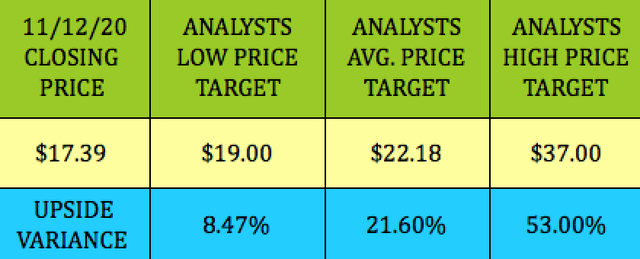 Options:
Like some of the other dividend stocks in our recent articles, FTAI also has some
…...