InvestorPlace – Stock Market News, Stock Advice & Trading Tips
The electric vehicle (EV) boom is accelerating, which means that electric vehicle stocks are soaring.
In fact, over the past several weeks:
Tesla (NASDAQ:TSLA) ran from $200 to $590
Nio (NYSE:NIO) ran from $10 to $57
Li Auto (NASDAQ:LI) ran from $15 to $47
Workhorse Group (NASDAQ:WKHS) ran from $4 to $29
Nikola Corp. (NASDAQ:NKLA) ran from $18 to $28
From here, all could race even higher for three key reasons.
One, according to a new study from the Boston Consulting Group, by 2025, EVs could account for a third of all auto sales. By 2030, EVs could surpass internal combustion engine vehicles with a market share of 51%.
Two, Joe Biden is a fan of electric vehicles. That said, he noted on his site:
"There are now one million electric vehicles on the road in the United States. But a key barrier to further deployment of these greenhouse-gas reducing vehicles is the lack of charging stations and coordination across all levels of government. As President, Biden will work with our nation's governors and mayors to support the deployment of more than 500,000 new public charging outlets by the end of 2030."
Three, countries around the world are pushing EVs.
In Europe, for example, "Automakers need to sell more electric vehicles after EU lawmakers in December 2018 ordered them to cut CO2 emissions by 40 percent between 2007 and 2021, and then by a further of 38 percent by 2030, or face fines," as noted by Reuters.
Moreover, General Motors (NYSE:GM) just announced that it will invest $2.2 billion in U.S. manufacturing to increase EV production. GM is also planning to unveil about 20 new EVs around the world by 2023, including the GMC Hummer EV.
With that said, there's still time to invest in related EV stocks. And these are five that stand out:
Global X Autonomous & Electric Vehicles ETF (NASDAQ:DRIV)
Tesla (TSLA)
Nio (NIO)
Li Auto (LI)
Workhorse Group (WKHS)
Now, let's dive in and take a closer look at each one.
Electric Vehicle Stocks to Buy: Global X Autonomous & Electric Vehicles ETF (DRIV)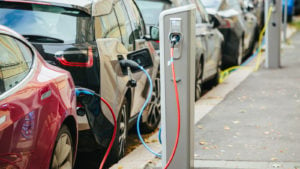 Source: Scharfsinn / Shutterstock.com
One of the best ways to diversify your EV portfolio is with an ETF, such as DRIV. Not only does this ETF give investors exposure to EV and autonomous stocks, such as Tesla, Nio, Qualcomm (NASDAQ:QCOM), Nvidia (NASDAQ:NVDA), Apple (NASDAQ:AAPL), Microsoft (NASDAQ:MSFT), Advanced Micro Devices (NASDAQ:AMD) and Toyota Motor (NYSE:TM), it does so at less cost.
For example, if you were to buy 10 shares of every listed stock, it would cost thousands of dollars. But with this ETF you can gain exposure at just $22 per share.
Tesla (TSLA)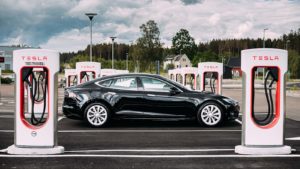 Source: Grisha Bruev / Shutterstock.com
The last time I weighed in on Tesla, the EV stock traded at $717 per share before
…...